Welcome to Our Brand New Service Department
Northtown Hyundai Service has just moved into our newly renovated building located at our previous location at 3675 Sheridan Dr. in Amherst. We want to continually improve the customer experience while providing a level of customer service that's second to none. 
Our highly qualified technicians are here to provide exceptional service in a timely manner. From oil changes to transmission replacements, we are dedicated to maintaining top tier customer service, for both new and pre-owned car buyers! Allow our staff to demonstrate our commitment to excellence.


YOUR SCHEDULED SERVICE TIME IS SET TO MEET WITH OUR SERVICE TEAM.  A "COMPLETION" TIME FOR YOUR VEHICLE WILL BE SET WHEN YOU ARRIVE.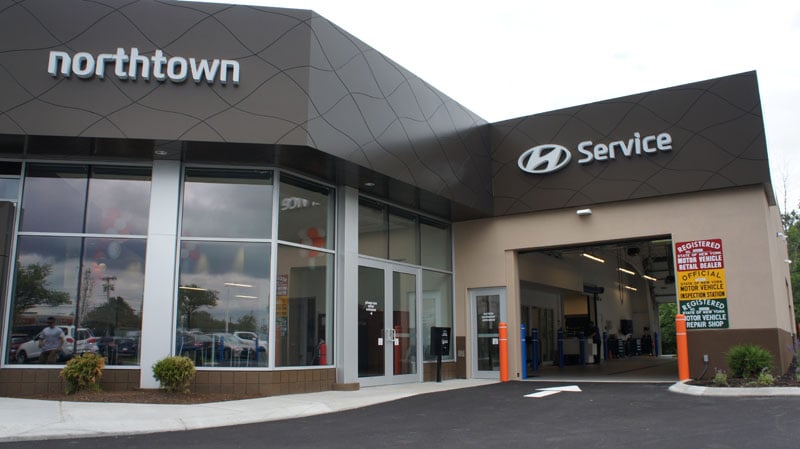 Northtown Hyundai Service Entrance
Our customers can enjoy fresh coffee and cookies while using our free guest WiFi, or channel surfing through our HD Cable.  We even have device charging stations and extra comfy chairs.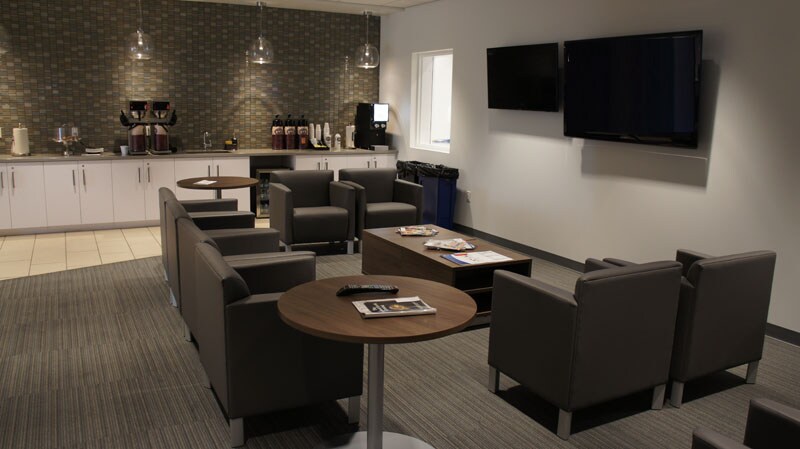 Customer Lounge
Your vehicle will be given the white-glove treatment while our Hyundai Certified Master-techs work on your vehicle with the latest State-of-the-Art equipment. Simply pull right into our Service Lane and we'll gladly take care of the rest!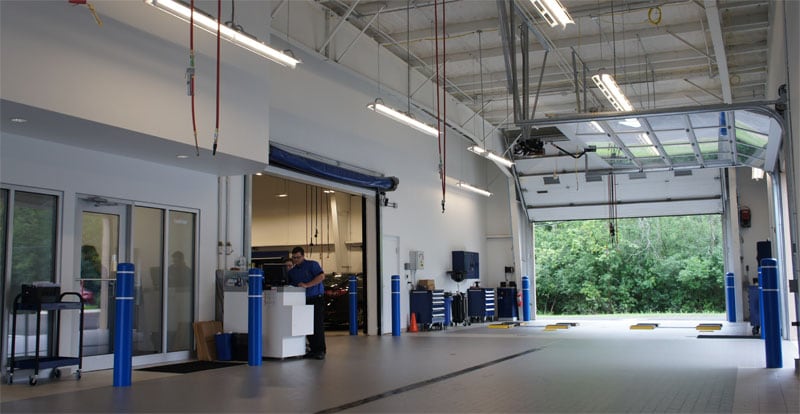 Service Lane - Pull Right In!

Schedule Your Service Near Tonawanda
At our Williamsville area dealership, we are dedicated to giving you excellent services that save you time and money to get you situated for an enjoyable driving experience. You will receive only the best results when you visit our dealership to get services for any make or model and they might include oil changes, tire rotations & replacement, internal parts diagnostics, fluid flushing, interior cleaning, and much more!
Anything you need can be accomplished here with ease because you're working with reliable professionals who understand how to give you the right parts and services to ensure that your vehicle is in great shape for years to come. Our attention to detail is what sets us apart from others as we service your needs with remarkable efficiency. With our easy online service scheduler, you can choose the time that works for you and just let us know what maintenance or repair services you need.
Genuine Hyundai Parts
To ensure that the services you get at our Tonawanda area service center, we always use genuine Hyundai parts. By using parts that are specifically made to fit your Hyundai vehicle, we'll do all repairs and replacements with warrantied parts installed by certified professionals.
We have a wide range of options to choose from including batteries, engines, transmissions, mufflers, replacement technology, and much more to consider! You might need some new wheels or need to replace a specific type of head or taillight and we have you covered at our dealership with a vast selection of reliable parts to accomplish the job!
Save On Your Regular Maintenance
At Northtown Hyundai, we offer a wide range of maintenance and repair services to our customers in Williamstown and beyond. And because we're a certified Hyundai service center, our technicians are working on Hyundai vehicles like yours every day, so you can trust that we know your vehicle inside and out.
Some of our most common services include:
Oil and filter changes: Motor oil is the lifeblood of your vehicle, keeping the many moving parts in your engine lubricated and working as designed. Your filter helps keep it clean, straining out dust and other particles. Changing out your oil and filter regularly is the single most important maintenance you can do to protect your investment.
Brake service: Your vehicle's brakes are incredibly important for your safety on the roads, and you need to make sure yours are operating optimally. If you hear squealing or feel anything unusual when braking, make an appointment right away to have our certified technicians check them out.
Tire rotations: We are the place to go when it's time to have your tires rotated or to have your seasonal tires changed out. If your tread wears down too much, or unevenly, that can compromise your safety, reduce your fuel efficiency, or cause issues with your steering alignment.
State Inspections: When it's time to get your inspection sticker, you can trust your vehicle to us. We use the latest in diagnostic equipment to run our tests and ensure that your vehicle is safe and up to New York's standards.
Schedule Your Service Today
Our service staff is looking forward to hearing from you and we are honored that you are giving us the opportunity to work on your vehicle and give it the maintenance it needs to stay in good working order. Many people underestimate the value of regular servicing, but we encourage you to take your car in for routine inspections with us.
Use our easy and secure online scheduler to choose the date and time that works for you and we'll be in touch to confirm your appointment!